As any fashion follower knows, as far as trends go, what happens in the seats at Fashion Week (and out and about near the tents) is just as important as what's on the runways. Stylists, photographers, models off duty and, of course, the editors make almost as many headlines as the clothes they come to see.
That means the pressure to look stylish and current is intense. Add in potential ice storms, bone-chilling winds and the fear of bad hat-head, and you have, in the words of Eva Chen, Beauty Director at
Teen Vogue
, "A sartorial challenge to look chic while maintaining Michelin Man-like insulation."
Chris Frey, a regular contributor to The Inside Source, eBay's digital style magazine,
checked in with editors from Lucky, Real Simple, Seventeen and Teen Vogue
to find out what they'll be wearing. They also shared thoughts on the new Lincoln Center venue, their favorite runway shows, and what else gets them through the hectic week.
Gina Kelly
Frye studded combat boots
, a
Greek Fisherman's hat
and a
St. James striped sweater
make up Kelly's style uniform, though she admits to succumbing to purchases throughout the week: "It's like once I go to one show, I suddenly feel like I have nothing to wear, so there's this urge to get something fun and new. I usually hide from my American Express statement for about a month afterwards.", Fashion Director, Seventeen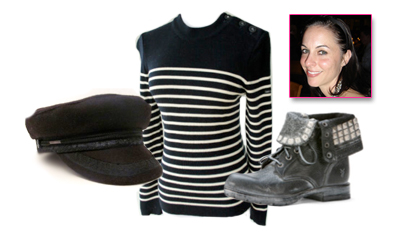 Eva Chen, Beauty Director, Teen Vogue
"I always love the Rodarte show for the sheer dreamy creativity--it makes my heart sing! And Phillip Lim because I know I'll end up buying half the collection!"" says Chen, who sports a
giant cashmere scarf
(preferably from Burberry or Chanel),
Proenza Schouler booties
and a
fur hat
throughout the week.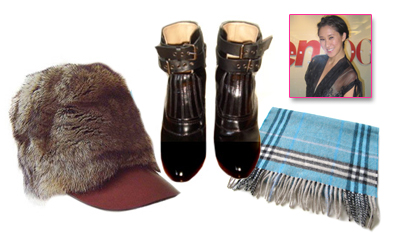 Lynette Pone McIntyre, Senior Market Editor, Lucky
A
Clare Vivier bag
, her
Oris watch
and a
Gryphon leopard coat
are the fashion items McIntyre relies on during Fashion Week. What else can't she live without? "My iPhone and a bag of homemade granola with dried cherries."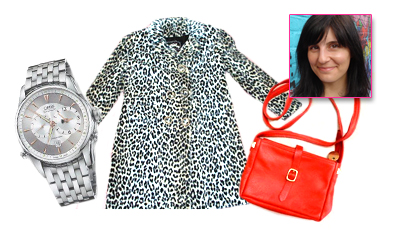 Randi Packard, Fashion Market Director, Real Simple
Packard pairs her signature red lipstick with
Loeffler Randall booties
, a
Jerome Dreyfuss
"Billy" bag and an
Elizabeth & James black tuxedo jacket
"because it fits over dresses and tops and really elevates what I am wearing, and it's really comfortable. " As for the shows she's most looking forward to: "Adam, Lela Rose, Ports 1961 and Jenni Kayne."